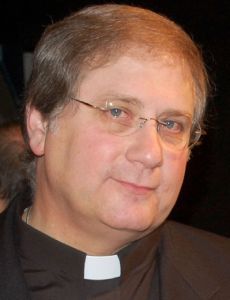 Richard Gorman
In 2015, Fr. Richard Gorman of the Archdiocese of New York was accused of sexually abusing a thirteen-year-old boy while assigned to St. Barnabas Catholic Church in the Bronx, New York, in the 1980s. Investigation of this allegation yielded several additional alleged survivors and witnesses. Gorman denied the accusations, which the investigators deemed "credible [but] not yet substantiated." As of May 2017, Fr. Gorman had been removed from ministry and was awaiting a proceeding to determine whether he will be laicized.
The Independent Reconciliation and Compensation Program of the Archdiocese of New York has made financial settlement available to at least one survivor of Fr. Gorman's abuse.
Fr. Richard Gorman was ordained in 1982. He worked in a parish in the Bronx and at high schools in White Plains and the Bronx, New York. He also worked for Catholic Charities, worked as a judge for the Archdiocesan Metropolitan Tribunal, and was chairman of Community Board 12 in the Bronx for over twenty years.
Fr. Richard Gorman worked at the following locations:
1982: Ordained
1982-1987: St. Barnabas, New York (Bronx), NY
1982-1/2016: Community Board 12, Bronx, NY
1987-1990: Archbishop Stepinac High School, White Plains, NY
1990-1/2016: Cardinal Spellman High School, New York (Bronx), NY
1997-2005: Catholic Charities, New York, NY
2002-2005: St. John's University School of Law, Jamaica, NY (student)
2009: Archdiocesan Metropolitan Tribunal, New York, NY
2010-1/2016: Archdiocesan Prison Apostolate, New York, NY
1/2016: Leave of absence
Sources: (http://www.nydailynews.com/new-york/bronx/bronx-priest-accused-sexually-abusing-minors-article-1.2505102, http://www.nydailynews.com/new-york/men-abused-priests-kids-win-2m-archdiocese-article-1.3177385, and http://www.bishopaccountability.org/Gorman_Richard_F.html)