Fr. Robert E. Barrett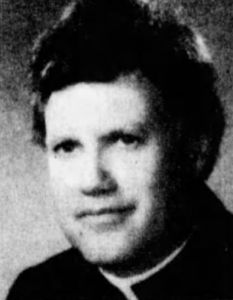 Ordained: 1963
Assignments:
1963-1969: St. George, Framingham, MA (BO)
1969: St. Adelaide, West Peabody, MA (BO)
1969-1973: St. Mary of the Assumption, Hull, MA (BO)
1973-1975: Fordham University, Bronx, New York (NY); Sacred Heart Rectory, Dobbs Ferry, NY (NY)
1975-1979: Framingham Union Hospital, Kathleen Daniel Nursing Home and Middlesex Manor Nursing Home, MA (BO)
1979-1980: St. Ann, Gloucester, MA (BO)
1980-1981: Immaculate Conception, Newburyport, MA (BO)
1981-1983: Sick Leave
1983-1985: St. Anthony, Allston, MA (BO)
1985-1986: John the Evangelist, Chelmsford, MA (BO)
1987: Unknown
1988-1990: St. Rose, Chelsea, MA (BO)
1988-1992: SS. Peter & Paul, South Boston, MA (BO)
1993-1995: Sick Leave
1995-2007: Unknown
2008: Died
Fr. Robert Barrett was ordained a priest in the Archdiocese of Boston. Fr. Barrett's personnel file, released by the Archdiocese of Boston in 2002, revealed a report was made to the Archdiocese in 1993 that Fr. Barrett sexually abused a minor boy at St. Mary's in Hull, Massachusetts, in approximately 1967 or 1968. Fr. Barrett made a partial admission to the accusation, writing in 1994 that, ''there was no genital activity but my actions were suspect, and the allegations were credible.'' The Archdiocese settled the case in 1994 and Fr. Barrett was sent to psychiatric treatment in 1995. In 1997, a lawsuit alleged Fr. Barrett sexually abused a minor boy from approximately 1967 through 1968 when Fr. Barrett worked at St. George's Church in Framingham, Massachusetts. Fr. Barrett was identified by the Archdiocese of Boston in the "Publication With Respect to Archdiocesan Clergy Accused of Sexual Abuse of a Child" under the subsection "Cases That Have Been Concluded Canonically, Either By Dismissal or Sentence to Life of Prayer and Penance, or Criminally, Either By Plea or Conviction." Fr. Barrett's status as a priest, whereabouts, and whether he had access to children from 1992 until his death in 2008 are unknown.