Bishop Joseph P. Denning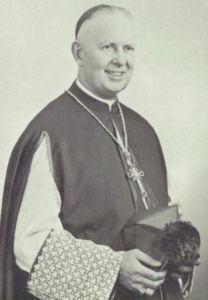 Ordained: 1932
Assignments:
1933: Resurrection of Our Lord, Brooklyn, NY (BRK)
1934-1939: St. Joseph's, Brooklyn, NY (BRK)
1940-1953: Brooklyn Cathedral College of the Immaculate Conception, Brooklyn, NY (BRK)
1954-1960: Queen of Angels, Long Island City, NY (BRK)
1961-1988: Our Lady Queen of Martyrs, Forest Hills, NY (BRK)
1989: Unknown
1990: Died
Bishop Joseph Denning was ordained a priest in the Diocese of Brooklyn. He served as the Diocese's auxiliary bishop from 1959 until his retirement in 1982. Bishop Denning was included on Diocese of Brooklyn's 2019 "List of Diocesan Clergy for Whom the Diocese Received Allegations of Sexual Misconduct with a Minor," in the subsection "Diocese of Brooklyn Clergy Who Were Deceased/or Resigned Prior to a Finding of Credibility." The details of the sexual abuse allegations, including when and where the abuse occurred, are unknown.