Msgr. Francis V. Boyle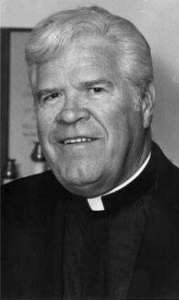 Ordained: 1955
Assignments:
1956-1959: St. Malachy's, New York, NY (NY)
1960-1968: St. Gabriel's, New York, NY (NY)
1969-1979: St. Joseph Seminary, Yonkers, NY (NY)
1980-1991: Our Lady of Perpetual Help Church, Pelham Manor, NY (NY)
1992-2017: Blessed Sacrament Church, Staten Island, NY (NY)
2005-2017: Retired; John Cardinal O'Connor Residence, Bronx, NY (NY)
2018-2019: Unknown
Msgr. Francis Boyle was ordained a priest in the Archdiocese of New York. Msgr. Boyle was named on the Archdiocese of New York's 2019 "List of Archdiocesan Clergy Credibly Accused of Sexual Abuse of a Minor or the Subject of Eligible IRCP Compensation Claims" under the subsection "[t]he following archdiocesan clergy have been credibly accused of sexual abuse of a minor." The details of the sexual abuse allegations, including when and where the abuse occurred, are unknown. In 2018, the Archdiocese reportedly suspended Msgr. Boyle and ordered him to not function or present himself as a priest. As of 2018, Msgr. Boyle was believed to be living in the Bronx, New York. Msgr. Boyle's status as a priest, current whereabouts, and whether he has access to children are unknown.