Br. Thomas Cuthbert Ford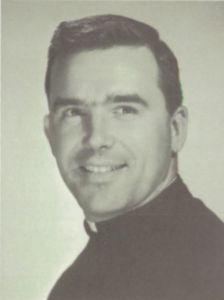 Ordained, 1955
Assignments Within the Archdiocese/Diocese(s) in New Jersey: Newark
Assignments:
1956-1959: Mt. Cashel Home for Boys, Newfoundland, Canada
1959: Cardinal Hayes High School, New York, NY
1960-1964: Catholic Memorial High School, Boston, MA
1964-1967: O'Dea High School, Seattle, WA
1967-1969: St. Laurence High School, Chicago, IL
1970-1974: Damien High School, Honolulu, HI
1974-1979: Boy's Central High School, Butte, MT
1979-1980: Cantwell High School, Los Angeles, CA
1980-1986: St. Laurence High School, Chicago, IL
1986-1996: Bergen High School, Bergen, NJ
1996-2000: Unknown; criminal charges for abuse at Mt. Cashel
2001-2008: Santa Maria Community, New York
2008: Died
Notes: Br. Thomas C. Ford joined the Christian Brothers and was assigned to Mt. Cashel Home for Boys in Newfoundland, Canada in 1956. During his time at Mt. Cashel, Br. Ford sexually and physically abused multiple children in a sadomasochistic manner including the use of leather straps. When Br. Ford severely beat a naked child in the shower so viciously that he lost consciousness and was transported to the hospital, Br. Ford was returned to the United States. The abuse at Mt Cashel was well known to all Brothers including those at Damien Memorial High School. In 1970, Br. Ford began teaching at Damien Memorial High School and one year later he sexually abused a student at Damien. Br. Ford was known at Damien for his use of force and violent temper. In 1972, Br. Ford abused another boy, also a Damien student. By 1974, Br. Ford had left Damien and returned to the mainland. In 1996, Canadian criminal officials charged Br. Ford with 9 counts of abuse for beating children at Mt. Cashel in the late 1950's. Br. Ford disappeared from his teaching assignment and resisted extradition. School officials informed students that Br. Ford left to attend to a family emergency. Br. Ford pleaded guilty and was sentenced to five months in jail. Eleven other Brothers were also convicted for physical and sexual abuse at Mt. Cashel. Multiple claims throughout North America have been filed alleging abuse by Br. Ford, including multiple claims in the Irish Christian Brothers bankruptcy and two lawsuits in Hawaii in 2014.