Fr. Joseph Cervantez Briceno (Brecino)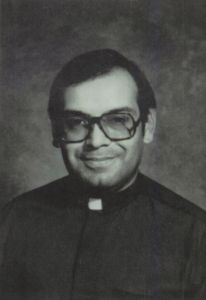 Ordained, 1981
Assignments:
1982 St. Catherine of Sienna, Phoenix, AZ, (PHX)
1983 Seton Catholic High School, Chandler, AZ (PHX)
1983-1992 St. Mary's, Chandler, AZ (PHX)
1993-2002 Unassigned
2003-2005 Unknown
2006-2010 Absent on Leave
2011-2019 Unknown
Fr. Joseph Cervantez Briceno was ordained in the Diocese of Phoenix. The Diocese of Phoenix is believed to have first learned of an allegation of child sexual abuse by Fr. Briceno in 1992, but he was not removed from ministry until approximately 10 years later, when the allegation became public. In 2002, Fr. Briceno was permanently removed from ministry amid the allegation that he repeatedly sexually abused a minor boy from approximately 1982 to 1983 at St. Mary's in Chandler, Arizona. Fr. Briceno was indicted later that year, but he reportedly had already fled to Mexico in response to the allegation of child sexual abuse. In 2003, Fr. Briceno was indicted on six counts relating to child sexual abuse. It is reported that Fr. Briceno worked as a priest at Cristo Rey in San Luis, Sonora, Mexico until he was extradited back to the United States in 2005. Fr. Briceno was sentenced to approximately two years in prison after admission of two counts of sexual conduct with a minor. Fr. Briceno was named on the Diocese of Phoenix's list of "Names of Diocese of Phoenix priests and deacons who have been laicized and/or removed from ministry due to sexual misconduct with a minor." Fr. Briceno was reportedly released from prison in 2007 and is believed to be living in Phoenix, Arizona. Fr. Briceno's status as a priest and whether he has access to children are unknown.