James Vincent Hanney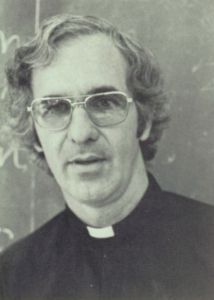 Br. Hanney was a member of the Edmund Rice Christian Brothers ("Irish Christian Brother") in the 1970s. In approximately 1971, students at Bishop Gibbons High School in Schenectady, New York, found a photograph of Br. Hanney and two young men sitting on a picnic table completely naked. The students brought the photographs to Irish Christian Brother Br. Draney, then-principal of the school. Br. Draney reportedly took no action against Br. Hanney, instead allowing him unrestricted contact to students. Br. Hanney has also been accused of sexually abusing a female student at Bishop Gibbons from approximately 1977 to 1980, when the girl was 15 to 17 years old.
In 1982, a yearbook for All Hallows High School in the Bronx, New York City, shows Br. Hanney was a teacher there. As of 2014, Br. Hanney was listed by the Edmund Rice Christian Brothers as accused by at least two person in claims settled in a bankruptcy proceedings. Br. Hanney is believed to have since fled the United States and obtained work in the Phillipines. His current whereabouts are unknown.