Fr. J. Michael Cannon, S.J.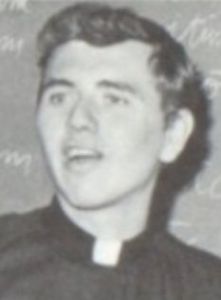 Ordained: 1974
Assignments:
1975-1978: Jesuit School of Theology, Chicago, IL (CHI)
1979: Jesuit Community at Creighton University, Omaha, NE (OM)
1980-1987: Creighton Preparatory School, Omaha, NE (OM)
1984: Jesuit Community at Fordham University, New York, NY (NY)
1988-1992: The Gesu, Milwaukee, WI (MIL)
1993-1994: Jesuit Provincial Office, Wisconsin Province, Milwaukee; WI, Priests of the Province Engaged in Higher Studies: 1075 Benton St., Santa Clara, CA (MIL)
1995-2019: Unknown
Fr. J. Michael Cannon entered the Jesuit order in 1962 before being ordained a Jesuit priest. In 2002, he was accused of child sexual abuse that allegedly occurred from approximately 1967 to 1971, at Campion Jesuit High School in Prairie du Chien, Wisconsin. The details of the sexual abuse allegations, including when and where the abuse occurred, are unknown. Fr. Cannon is included on the Jesuits' 2018 list of "USA Midwest Province Jesuits with Established Allegation(s) of Sexual Abuse of a Minor" under the subsection "Midwest Province Jesuits with an established allegation of sexual abuse of a minor." Fr. Cannon was reportedly dismissed by the Jesuits in 1997. Fr. Cannon's status as a priest, whereabouts, and whether he has
access to children are unknown.