Fr. J. Peter (Peter J.) Conroy, S.J.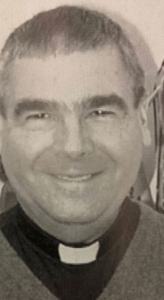 Ordained: 1971
Assignments:
1972-1973: 341 Bloor St. W., Toronto, Ont. Canada, (NYProv)
1974-1978: Loyola Faber Hall, Fordham University, Bronx, NY (NY)
1979-1980: Jesuit Community at Fordham University, New York City, NY (NY)
1981-1984: Canisius College, Buffalo, NY (BUF)
1985-1994: Christ the King Retreat House, Syracuse, NY (SY)
1995-2001: Canisius Jesuit Community, Buffalo, NY (BUF)
2002: St. Ann Church, Buffalo, NY (BUF)
2003-2019: Jogues Retreat, Cornwall, NY (NY)
Fr. J. Peter Conroy was ordained a Jesuit priest. Prior to ordination, it is reported that Fr. Conroy taught at Canisius High School in Buffalo, New York. In 2002, the Diocese of Buffalo allegedly received a report that Fr. Conroy sexually abused two minor girls from approximately 1972 to 1976. Fr. Conroy reportedly admitted to sexually abusing the minor girls and was subsequently removed from Canisius College in Buffalo, New York. In February 2019, one of the women filed a civil lawsuit against Fr. Conroy and the Jesuits. Fr. Conroy is named on the Jesuits' list of "USA Northeast Province Jesuits with Credible Allegations of Sexual Abuse of a Minor." Fr. Conroy has reportedly been living at the Jogues Retreat Center in Cornwall, New York, since 2002. Fr. Conroy's status as a priest and whether he has access to children are unknown.