Fr. Michael R. (R. Michael) Cronin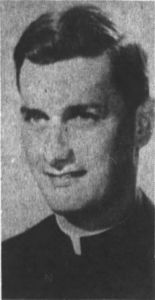 Ordained: 1964
Assignments:
1965 Unknown
1966 St. Francis de Sales, West Albany, NY (ALB)
1967-1968 St. Clare's, Colonie, NY (ALB)
1969-1973 Saint Gregory's School for Boys, Loudonville, NY (ALB)
1974-1975 Rensselaer Poly Technic Institute, Troy, NY (ALB)
1976-1977 St. Ann's, Albany, NY (ALB)
1978-1981 Unknown
1982-1985 Salesian Junior Seminary Goshen (NY)
1986-1987 Unknown
1988-1989 U.S. Provincial Headquarters (FgM)
1990-2019 Unknown
Fr. Michael Cronin was included on the Diocese of Albany's lists of "Clergy Credibly Accused While Serving in
the Diocese of Albany." It is believed that Fr. Cronin resigned from the priesthood in 1977. The details of the sexual abuse
allegations, including when and where the alleged abuse occurred, are unknown. Fr. Cronin's current whereabouts and
whether he has access to children are unknown.