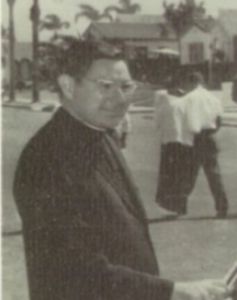 Msgr. Donald F. Doxie
Ordained: 1952
Assignments:
1953 St. Margaret, Chino, CA
1954-1955 Pontifical Society for the Propagation of the Faith, Home Missions, Holy Childhood Association
1954 Our Lady of Perpetual Help, Lakeside, CA
1955 Our Lady of Rosary, San Diego, CA
1955-1959 Auditor and Secretary
1956-1957 St. Joseph Cathedral, San Diego, CA
1957 Priests' Relief Society; San Diego College for Men,  San Diego, CA
1957-1960 Vice Chancellor and Secretary
1958-1961 On Duty Outside Diocese, U.S. Navy, Chaplain
1959-1960 Secretary to Auxiliary Bishop
1960-1968 Secretary
1961 Vicar General and Secretary
1962-1968 Vice Chancellor and Bishops Secretary
1963-1976 Diocesan Consultors
1964-1965 Priests Relief Society
1964-1974 Priests' Eucharistic League
1965-1968 Administrative Council
1965-1971 Liturgical Commission
1967-1976 Defensor Vinculi
1969-1976 St. Brigid, San Diego, CA
1974-1976 Episcopal Vicars; Vicars Forane
1976 Stewardship
1976 Died
Msgr. Donald F. Doxie worked in multiple parishes in the Diocese of San Diego, as a Navy chaplain, and as the Vice Chancellor. Additionally, Msgr. Doxie worked at St. Margaret in Chino, California, which became a parish of the Diocese of San Bernardino after the Diocese of San Bernardino was established in 1978. At least one person has come forward alleging child sexual abuse by Msgr. Doxie from approximately 1969 to 1972 while he worked at St. Brigid in San Diego. Fr. Doxie has been named in at least one civil lawsuit. Fr. Doxie was included in the Diocese of San Diego's list of priests where the Diocese has received a credible allegation involving sexual abuse of a minor.