Fr. John P. Doran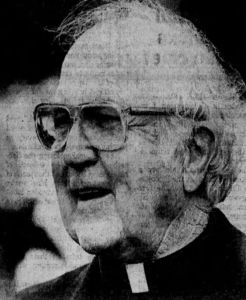 Ordained: 1945
Assignments:
1946-1947: Sacred Heart, Noagles, AZ (TUC)
1947-1948: St. Augustine Cathedral, Tucson, AZ (TUC)
1948-1949: Immaculate Conception, Douglas, AZ
1949-1950: Our Lady of Lourdes, Benson, AZ
1950-1972: St. Thomas the Apostle, Phoenix, AZ (TUC/PHX)
1968: Saint Phillip, Payson, AZ (TUC)
1973-1976: Our Lady of Joy, Carefree, AZ (PHX)
1977-1982: St. Maris, Scottsdale, AZ (PHX)
1983-1997: Retired (PHX)
1997: Died
Fr. John P. Doran worked at several locations within the Diocese of Tucson and the Diocese of Phoenix. Fr. Doran was accused of child sexual abuse in approximately 1963. In 2008, Fr. Doran was included in the Diocese of Tucson's "List of Clergy and other Church Personnel Identified by the Diocese of Tucson with Assignments, Employment or Ministry Service in the Diocese about Whom the Diocese Is Aware of Credible Allegations of Sexual Misconduct Involving a Minor." Fr. Doran was also included in the Diocese of Phoenix's list of "Names of priests and deacons from other dioceses who may no longer serve in the Diocese of Phoenix due to an accusation of sexual misconduct with a minor." Fr. Doran's status as a priest, whereabouts, and whether he had access to children from 1983 until his death are unknown.