Alan J. Placa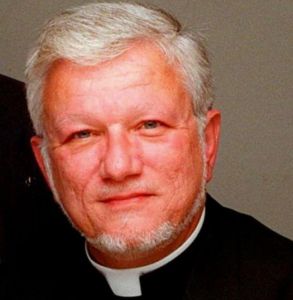 Msgr. Alan J. Placa had a long career as a priest of the Diocese of Rockville Centre and for years was the Diocese's point person for addressing allegations of child sexual abuse. Several survivors have alleged that Msgr. Placa sexually abused them as children. The alleged abuse dates back to Msgr. Placa's first parish assignment at St. Patrick's in Glen Cove and continues through his time as a faculty member at St. Pius X Preparatory Seminary in Uniondale, New York.
Msgr. Placa, a civil attorney, eventually assumed the role of vice chancellor and legal counsel to the Bishop of Rockville Centre. He wrote the Diocese's policy on handling child sexual abuse allegations and, from 1992 to 2002, worked as part of a three-member "intervention team" to address reports of clergy sexual abuse. He wore several hats as a member of the "intervention team" and purported to watch over the interests of survivors, perpetrators, and the Diocese simultaneously. Often, Msgr. Placa purposely disguised the fact that he was a diocesan lawyer as well as a priest. Multiple survivors allege that Msgr. Placa acted as spiritual advisor to them when they reported child sexual abuse to him, but later bullied them and used the information they reported to help the Diocese undercut their claims and settle their lawsuits for the lowest amount possible.
During his time working on the "intervention team," Msgr. Placa employed aggressive strategies designed to undermine survivors and avoid litigation and publicity about clergy sexual abuse. In 1993 Msgr. Placa acted as a legal consultant for the defense in a survivor's lawsuit against a perpetrator; the bishop of Worcester, Massachusetts; and the House of Affirmation, a treatment center for abusive priests in Massachusetts. After the lawsuit settled, Msgr. Placa derided the survivor in the press, stating that he was "a bad man who was a liar and who lied under oath." Also in 1993, Msgr. Placa settled a lawsuit with survivor Raymond Trypuc, who was suffering from cocaine addiction as a result of his abuse. Trypuc's therapists at a rehabilitation center say Msgr. Placa never contacted them before having Trypuc sign crucial settlement documents and disbursing $25,000 to Trypuc, who died of a cocaine overdose within weeks of receiving the money. The former director of priest health services in the Diocese, Robert Fulton, has stated that he recommended that several allegedly abusive priests undergo psychiatric treatment, but Msgr. Placa ignored his recommendations and kept the priests in ministry.
In 2002, a grand jury was convened to investigate the Diocese of Rockville Centre's handling of clergy sexual abuse allegations. The Suffolk County Grand Jury's description of Priest F matches public allegations against Msgr. Placa. The Suffolk County District Attorney stated that the grand jury could have indicted 23 priests for sexual abuse and charged the church hierarchy with a cover-up had the appropriate laws been in place. The grand jury recommended that New York lawmakers abolish the statute of limitations in child sexual abuse cases, but the New York Assembly has not done so to date.
Just after the Diocese turned over records regarding its handling of clergy sexual abuse to the grand jury in 2002, Rockville Centre Bishop William Murphy directed Msgr. Placa to step down and take a sabbatical. Bishop Murphy subsequently stripped Msgr. Placa of his right to function as a priest in the wake of an allegation of child sexual abuse. Msgr. Placa challenged Bishop Murphy's suspension of his faculties, appealing the suspension to the Tribunal of the Diocese of Albany and, later, the Vatican. In December 2009, the Congregation for the Doctrine of the Faith found Msgr. Placa to be not guilty of the allegation of child sexual abuse brought against him in 2002. Consequently, Msgr. Placa's status was restored to that of a retired priest in good standing.
Msgr. Placa was ordained a priest for the Diocese of Rockville Centre in 1970. He has worked at the following locations:
1971-1973: St. Patrick's, Glen Cove, NY
1974-1978: St. Pius X Preparatory Seminary, Uniondale, NY
(1975: Assistant Principal for Activities; 1976-1978: Dean of Students)
1976-1978: Most Precious Blood (Summer Mission), Davis Park, NY (Administrator)
1979-1988: Catholic Charities – Central Administrative Offices, Rockville Centre, NY
(1979-1981: Director – Services for Retarded Adults; 1980-1982: Director – Community Research & Development; 1983: Director – Advocacy Office; 1984-1988: Counsel – Office of Legal Affairs)
1979-1990: Cure of Ars, Merrick, NY (In residence)
1991-1998: SS. Cyril and Methodius, Deer Park, NY (In residence)
1999-2017: St. Aloysius, Great Neck, NY (In residence)
2001-2002: Catholic Health Services of Long Island, Melville, NY
2008-2010: Unassigned
2011-2017: Retired
Msgr. Placa currently works as a consultant at Giuliani Partners, a management and security consulting business founded by his childhood friend Rudy Giuliani, former mayor of New York City. He has been working there since early 2003. Msgr. Placa continues to pose a risk to children.
(Sources: http://www.bishopaccountability.org; http://www.bishop-accountability.org/ny-rockvillecentre/accused_priests.htm#placa; The Official Catholic Directory)