Msgr. Charles J. Durkin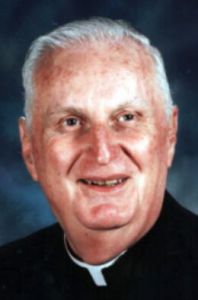 ORDAINED:

1955
Assignments:
1956-1961: Star of the Sea, San Francisco, CA
1962: St. Sebastian's, San Rafael, CA
1963-1968: St. Patrick's, San Francisco, CA
1964-1974: Young Christian Workers, Los Gatos, CA
1968-1974: San Francisco Fire Department
1969-1974: Epiphany, San Francisco, CA
1975-1986: All Souls, San Francisco, CA
1978-1982: Serra Club of El Camino Real, Daly City, CA
1979-1983: Deans, San Francisco, CA
1980-1983: Diocesan Consultants, San Francisco, CA
1987-1995: St. Elizabeth's, San Francisco, CA
1996-2003: Star of the Sea, San Francisco, CA
1998-2002: Italian Catholic Federation, San Francisco, CA
2003-2006: Retired
2006: Died
At least one person has accused Msgr. Charles Durkin of child sexual abuse, from approximately 1994 to 1996 while he worked at Star of the Sea in San Francisco. Msgr. Durkin reportedly retired in 2002, a month after the San Francisco District Attorney's office requested 75 years' worth of church records related to abuse allegations. At the time of Msgr. Durkin's retirement, he was the subject of another child sexual abuse allegation. After his retirement, Msgr. Durkin may have received treatment at the Southdown Institute in Toronto, Canada. Prior to his death, Msgr. Durkin resided at the Nazareth House in San Rafael, California. Msgr. Durkin's whereabouts and whether he had access to children from 2003 until his death in 2006 are unknown.