Fr. Clifton Raymond Etienne, s.v.d.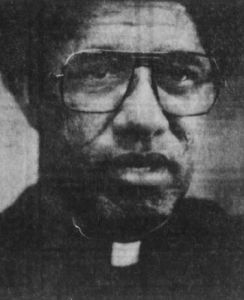 Ordained: 1979
Assignments:
1979-1980: St. Patrick's (OAK)
1980-1988: St. Anthony's (SB)
1988-1998: Divine Word Seminary (SB)
1998: Died (5/22/88)
Fr. Clifton Raymond Etienne was a priest of the Divine World Missionaries who has been accused of child sexual abuse at the Divine World Seminary in Riverside. Prior to being ordained, when Fr. Etienne was a deacon, he reportedly started choirs at St. Catherine of Alexandria in Riverside. Fr. Etienne was also the director of a summer youth camp at Divine World Seminary for several years. He has been named in at least one civil lawsuit. Fr. Etienne was included in the Diocese of San Diego's list of priests where the Diocese has received a credible allegation involving sexual abuse of a minor.