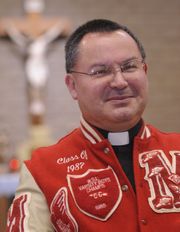 Fr. Raul Diaz
Ordained: 1997
Assignments:
1998-1999 St. Anne, Porterville, CA (FRS)
2000 St. Jude Thaddeus, Earlimart, CA (FRS)
2001-2004 Our Lady of Sorrows, Parlier, CA (FRS)
2005-2006 St. Patrick, Kerman, CA (FRS)
2007-2018 St. Catherine of Siena, Dinuba, CA (FRS)
2019 Unknown
In May of 2019, Fr. Diaz was reportedly placed on paid administrative leave pending investigation reportedly involving allegations of sexual abuse of minors. Bishop Joseph V. Brennan is quoted saying that a report was made which alleged that "Fr. Diaz has engaged in inappropriate behavior that may include inappropriate contact with minors." Bishop Brennan further stated that law enforcement is involved in this investigation. Fr. Diaz's current whereabouts, status as a priest, and whether he has access to children are unknown.