Fr. Donald J. McGuire, S.J.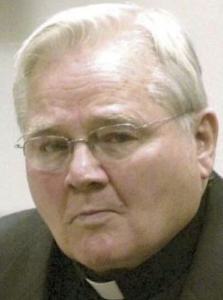 Ordained: 1961
Assignments:
Unknown: Mount Claret, Phoenix, AZ (PHX)
1961-1962: Westphalia Jesuit Seminary, Germany
1962-1965: University of Innsbruck, Austria
1965-1972: Loyola Academy, Wilmette, IL
1972-1976: Loyola University, Chicago, IL
1976-1981: University of San Francisco, San Francisco, CA (SFR)
1981-1989: Bellarmine Hall, Barrington, IL
1989-2002: Canisius House, Evanston, IL
2003-2005: Clark Street Residence, Chicago, IL
2006-2016: Unknown
2017: Died
Fr. Donald McGuire was a Jesuit priest accused of sexually abusing many children throughout his career. The Jesuits allegedly first received reports of Fr. McGuire's child sexual abuse in the late 1960s. Several reports regarding Fr. McGuire's sexually abusive behavior were made in the decades that followed. In the late 1970s and early 1980s, Fr. McGuire was assigned to the University of San Francisco in the Archdiocese of San Francisco. Fr. McGuire worked in the Archdiocese of Los Angeles in the early 1980s, until the Archdiocese permanently terminated his faculties as of January 1, 1985. During his time in the Archdiocese of Los Angeles, Fr. McGuire reportedly lived at Sacred Heart Retreat House in Alhambra. In 2006, Fr. McGuire was criminally convicted for sexually abusing two students of Loyola Academy in Wilmette, Illinois, in 1968 and 1969 during his time as a faculty member at the school. In 2008, he was criminally convicted for traveling to engage in sex acts with a teenager, who he took on trips to Minnesota, Switzerland, and Austria. Fr. McGuire has also been named as a defendant in multiple civil lawsuits brought by survivors who allege Fr. McGuire sexually abused them as children. He was listed on the Illinois Sex Offender Registry until his death in 2017.