Fr. Edmond G. Cloutier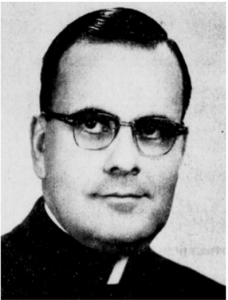 Ordained: 1946
Assignments:
1946-1953: St. Andre's, Biddeford, ME
1953-1960: Star of the Sea, San Francisco, CA
1960-1963: Corpus Christi, Piedmont, CA
1963-1965: St. Joseph's, Alameda, CA
1965-1981: St. Augustine's, Pleasanton, CA
1981-1985: Retired
1985-1986: Unknown
1986-1987: Retired (P.O. Box 1095, Salida, CA)
1987-1995: Retired
1995-1997: Bishop Begin Villa, Oakland, CA
1997-2000: Unknown
2000-2002: Retired
2002-2003: Unknown
2003: Died
Fr. Edmond G. Cloutier allegedly sexually abused at least four children at Star of the Sea in San Francisco. He was named in a civil lawsuit related to the alleged abuse. Fr. Cloutier's whereabouts and whether he had access to children between 1981 and his death in 2003 are unknown.