Msgr. Eugene MacSweeney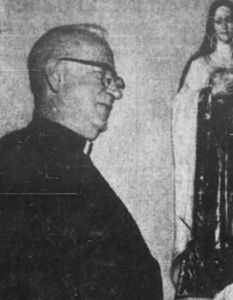 Ordained: 1927
Assignments:
1927: St. John's, Los Angeles, CA
1928-1929: Unknown
1930: Divine Savor, Los Angeles, CA
1931-1933: St. Joseph's, Hawthorne, CA
1934-1936: Incarnation, Glendale, CA
1937-1938: Catholic Daughters of America, Glendale, CA
1939-1940: Our Lady of Guadalupe, Fillmore, CA
1941: Sacred Heart, Covina, CA
1942: St. Sebastian, Santa Paula, CA
1943: St. Joan of Arc, Los Angeles, CA
1944-1949: Unknown
1950-1975: St. Joan of Arc, Los Angeles, CA
1975: Died
At least one survivor has come forward alleging child sexual abuse by Msgr. Eugene MacSweeney, in approximately 1959, while Msgr. MacSweeney worked at St. Joan of Arc in Los Angeles. Msgr. MacSweeney was included in the Archdiocese of Los Angeles' list of priests accused of sexual misconduct involving minors.