Eugene C. Vollmer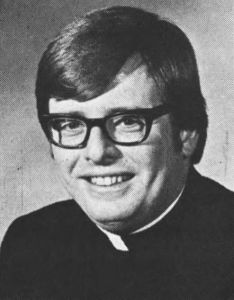 In 2002, two brothers accused Fr. Eugene C. Vollmer of child sexual abuse. Both survivors alleged that they had previously reported the abuse to the Diocese of Rockville Centre, but the Diocese took no action. Shortly after the first two survivors came forward, three more men reported to police they, too, had been sexually abused by Fr. Vollmer as children. Fr. Vollmer was placed on an "indefinite" leave of absence following the accusations and was laicized on June 16, 2004.
In 2002, a grand jury was convened to investigate the Diocese of Rockville Centre's handling of clergy sexual abuse allegations. The Suffolk County Grand Jury's description of Priest D matches a public allegation of child sexual abuse against Fr. Vollmer. According to the grand jury report, Priest D sexually abused "a minimum of six boys who ranged in age from 10 to 17" from approximately the late 1970s until the early 1990s.
Fr. Eugene C. Vollmer was ordained a priest for the Diocese of Rockville Centre on April 8, 1978 and worked at the following locations:
1977: St. Joseph's, Ronkonkoma, NY (Deacon)
1978: Ordained
1978: Our Lady of Perpetual Help, Lindenhurst, NY
1979-1985: St. Thomas the Apostle, West Hempstead, NY
1986-1988: Our Lady of Lourdes, West Islip, NY
1989-1997: Our Lady of Victory, Floral Park, NY
1998: St. Peter of Alcantara, Port Washington, NY
1999-2002: St. James, Seaford, NY
Fr. Eugene C. Vollmer died on May 19, 2016.
(Source: Official Catholic Directory & www.bishop-accountability.org)
Always use the online HTML editor to compose perfect articles for your website!