Fr. Frank M. Genevive, O.F.M.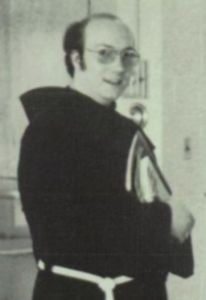 1983: Ordained
Assignments:
1984-1989: St. Anthony of Padua (Italian), Troy, NY (ALB)
1990: Our Lady of Mt. Carmel, Boston, MA (BO)
1991-1994: Unknown
1995-1997: St. Bernardine of Siena Friary, Mount Vernon, NY (NY)
1998: Unknown
1999-2001: St. Joseph Friary-Franciscan Friars, Onset, MA (FR)
2002: St. Margaret Church, Buzzards Bay, MA (FR)
2003: Unknown
2004-2008: Mt. Alvernia Retreat House, Wappingers Falls, NY (NY)
2009-2014: Unknown
2014: Died
Fr. Frank M. Genevive was ordained a Franciscan priest. Fr. Genevive has been accused in at least three civil lawsuits of sexually abusing minors. In July, 2006, Fr. Genevive was arraigned on rape charges for the sexual assault of boys at Saint Anthony's of Padua in Troy, New York between 1979 and 1982. Fr. Genevive videotaped and photographed the abuse. In 2008, Fr. Genevive pleaded guilty to four counts of rape and assault. He was ordered to register as a sex offender, undergo treatment, avoid minors, wear a GPS monitoring bracelet, and submit a DNA sample. It is believed that Fr. Genevive was removed from ministry in 2002. Fr. Genevive's whereabouts, status as a priest, and whether he had access to children from 2009 until his death in 2014 are unknown.