Fr. Francis J. Furfaro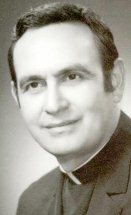 Ordained: 1941
Assignments:
1942-1949: Our Lady of Pompeii, Syracuse, NY
1950-1991: St. Joseph, Oswego, NY
1973-1978: Episcopal Vicars – Oswego County
1979-1996: Vicars-General – Northern Area Vicar
1984-2001: Oswego County Jail, Oswego, NY
1992-2003: Retired
1993-1996: St. Louis, Oswego, NY
1997: Vicars Forane – Northern Area Vicar
2004-2009: Unknown
3/29/2010: Died
Fr. Francis J. Furfaro has been accused of sexually abusing several children. A 2003 lawsuit alleged that Fr. Furfaro sexually abused seven men or boys. In 2003, the Diocese of Syracuse stated that Fr. Furfaro had been permanently removed from ministry as a result of credible allegations of child sexual abuse.