Fr. Francis W. Callan, S.J.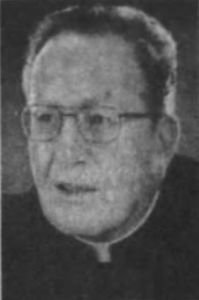 Ordained: 1946
Assignments:
1946-1947: Alma College, Alma, CA (SFr)
1947-1948: St. Aloysius, Spokane, WA
1948-1949: Unknown
1949-1951: St. Mary's Indian Mission, Omak, WA
1951-1956: St. Joseph's, Hardin, MT
1956-1957: St. Stanislaus, Lewiston, ID
1957-1958: St. Mary's, Pendleton, OR
1958-1959: Unknown
1959-1960: Mt. St. Michael's Scholasticate, Spokane, WA
1960-1962: Manresa Hall, Port Townsend, WA
1962-1965: Madre de Dios, Winslow, AZ
1965-1968: Brophy Prep. High School, Phoenix, AZ
1968-1969: Unknown
1969-1970: St. Mary's, Shaw, OR
1970-1973: Unknown
1973-1991: Oregon State, Hospital, Salem, OR
1991: Died
Fr. Francis W. Callan was ordained a Jesuit priest. Fr. Callan is included on the Jesuits West Province of the Society of Jesus' "List of Jesuits from Jesuits West Province with Credible Claims of Sexual Abuse of a Minor or Vulnerable Adult" in the section "Jesuits Lists in Oregon Bankruptcy Case." According to this list, a report was made in 2009 alleging that Fr. Callan sexually abused a minor from approximately 1950 to 1953.