Fr. George A. Gunst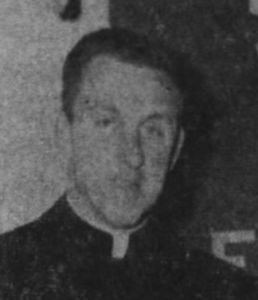 Ordained: 1950
Assignments:
1950-1952: St. Leo, Los Angeles, CA
1953-1954: St. Michael, Los Angeles, CA
1955: Our Lady of Guadalupe, El Monte, CA
1955-1960: Nativity Catholic Church, El Monte, CA
1961-1963: Resurrection Catholic Church, Los Angeles, CA; Our Lady of Victory, Los Angeles, CA
1964: St. Anne, Santa Monica, CA
1965: St. Alphonsus, Los Angeles, CA
1966-1967: St. Charles Borromeo, North Hollywood, CA
1968-1969: U.S. Navy Chaplain, Vietnam
1969: St. Anne, Santa Ana, CA
1970-1971: St. John the Baptist, Baldwin Park, CA
1972: Sacred Heart, Pomona, CA
1973-1974: St. Linus, Norwalk, CA
1975-1978: St. Kevin, Los Angeles, CA
1979-1990: On duty outside the Diocese, Navy Chaplain
1991: Retired (Jacksonville, NC)
1992-1994: Unknown
1995: Died
A 2003 lawsuit accused Fr. George A. Gunst of child sexual abuse. He allegedly sexually abused a girl in 1955 while working at Our Lady of Guadalupe Catholic Church and Nativity Catholic Church in El Monte. Fr. Gunst was included in the Archdiocese of Los Angeles' list of priests accused of sexual misconduct involving minors.