Fr. George Foley SS.CC.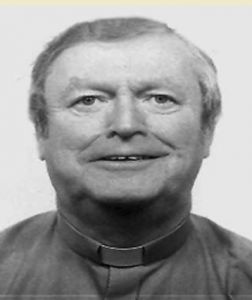 Ordained: 1963
Assignments:
1963-1965: Pomona School for Boys, La Verne, CA
1965-1968: Holy Name of Mary Parish, San Dimas, CA
1968: Sacred Heart Parish, Molokai, HI
1968-1969: Chaplain of California Youth Authority Center, Norwalk, CA
1969-1973: In residence at Bishop Amat's Faculty Residence, California
1973-1974: In residence at Damien High School Faculty Residence, La Verne, CA
1974: Foley leaves the Archdiocese. Reported to be living outside the Order and working as a probation officer in East Los Angeles.
1975: Joins the Ireland-England Province
1975-1980: Curate at St. Augustine's Church, Daventry, Northamptonshire, England
1980-1986: Curate in the parish of Great Missenden, Buckinhamshire, England
1986-1995: Chaplain in Cabinteely Community School
1996-2014: Residing in a Congregation of the Sacred Hearts residence, Coudrin House, Dublin, Ireland
2014: Died
In 2002, a woman wrote to Archbishop of Los Angeles Cardinal Roger Mahony alleging she was sexually abused by Fr. George Foley as a minor from approximately 1971 to 1974 while Fr. Foley was staying with her and having sexual relations with her mother. Fr. Foley worked at Sacred Heart Parish in Molokai, HI in the late 1960's.