Fr. George J. Francis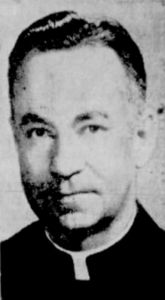 Ordination: Unknown
Assignments:
1938-1943 St. Patrick's, San Jose, CA (SFR)
1944-1949 St. Cyril's, Oakland, CA
1950-1956 Epiphany, San Francisco, CA
1957-1987 St. Bede, Hayward, CA (1962- OAK)
1988-1998 Retired, St. Bede, Hayward, CA
1998 Died
Fr. George Francis was named in two civil lawsuits alleging that he sexually abused minors. In 1990, a lawsuit alleged that he raped a seven-year-old girl in 1959; the lawsuit was settled in 1993. Another lawsuit was filed in 2002, alleging that he sexually abused a girl from approximately 1979 to 1982. In 2002, after both victims went public, the Diocese of Oakland admitted that Fr. Francis was an abuser. The Diocese of Oakland also admitted there were other child sex abuse victims of Fr. Francis and that they knew of at least
nine other victims.