Fr. George Michael Miller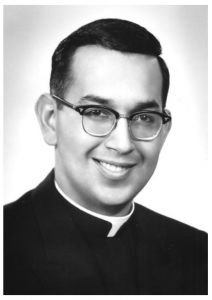 Ordained: 1963
Assignments:
1964-1967: Our Lady of Perpetual Help, Santa Clarita, CA
1968-1971: San Buenaventura Mission, Ventura, CA
1972-1973: St. Philomena, Carson, CA
1974-1984: Guardian Angel, Pacoima, CA
1985-1996: Santa Clara, Oxnard, CA
1997-1998: Unknown
1999: Retired
2000-2018: Unknown
Fr. George Miller sexually abused multiple boys in the 1970s and 1980s while he worked at Guardian Angel in Pacoima, California. Investigators allege he abused victims in the rectory, at a beach house, and at their homes. Despite written allegations of sexual abuse in 1977, a firm denial of misconduct by Fr. Miller resulted in the decision of Cardinal Timothy Manning to keep Fr. Miller in ministry. In 1996, the Archdiocese received a complaint of sexual abuse against Fr. Miller. In response to the complaint Cardinal Roger Mahony placed Fr. Miller on sick leave and eventually placed him on inactive leave in 1997, never to return him back to ministry. In 2002, Fr. Miller was arrested and charged with 24 counts of sex crimes against minors involving three boys. The charges were later dropped due to the statute of limitations. Fr. Miller was laicized in May 2005. In 2007, Fr. Miller was arrested and eventually pleaded guilty to sexually abusing a nine-year-old boy from approximately 1988 to 1991. Fr. Miller also admitted to sexually abusing four other boys whose cases could not be prosecuted because of the statute of limitations. In 2009, Fr. Miller was sentenced to three years in prison and had to register as a sex offender for life. Fr. Miller was included in the Archdiocese of Los Angeles' list of priests accused of sexual misconduct involving minors. It is believed that Fr. Miller died in June 2018.