Fr. James A. Clark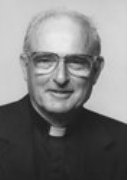 Ordained: 1947
Assignments:
1948-1950: St. Louis Bertrand, Oakland, CA (SFR)
1951-1955: Nativity of Our Lord, Menlo Park, CA
1956-1959: St. Leo's, San Jose, CA
1960-1963: St. Michael's, Livermore, CA (1962- OAK)
1964-1965: St. Paschal's, Oakland, CA
1966-1984: Corpus Christi, Fremont, CA
1985-1989: St. Anne, Walnut Creek, CA
1989: Died
Fr. James A. Clark has been accused of sexually abusing at least four children from approximately 1968 to 1980, while he worked at Corpus Christi in Freemont, California. As well as being named in multiple civil lawsuits, Fr. Clark was arrested and convicted of oral copulation of a 19-year-old man in Santa Cruz, California in 1963. The judge ordered that Fr. Clark go to counseling, undergo psychiatric treatment, and that his bishop be notified of "his problem." Despite his felony, in 1965 Fr. Clark was assigned to Corpus Christi in Niles, California, where he allegedly sexually, mentally, and emotionally abused numerous children.