Fr. James E. Jacobson, S.J.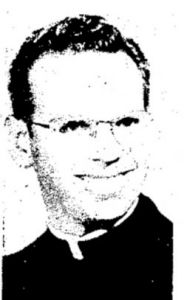 ORDAINED:

1959
ASSIGNMENTS:
1959-1960: Alma College, Los Gatos, CA (SFR)
1960-1961: Manresa Hall, Port Townsend, WA
1961-1962: Chefornak, AK
1962-1965: St. Joseph's, Nelson Island, AK
1962-1965: Nightmute, AK
1962-1965: Chefornak, AK
1965: St. Catherine Mission, Chefornak, AK
1965-1966: Nightmute, AK
1966-1967: St. Michael, St. Michael's, AK
1966-1967: Stebbins, AK
1966-1967: Unalakleet, AK
1967-1970: Holy Family, Glennallen, AK
1970-1976: Little Flower of Jesus, Hooper Bay, AK
1970-1976: Scammon Bay, AK
1970-1976: Cape Romanzof, AK
1976-1977: Berkeley, CA (OAK)
1977-1979: Oakland, CA (OAK)
1979-2005: Oregon State Penitentiary, Salem, OR
2005-2012: Regis Community, Spokane, WA
2013-2018: Unknown
A 2005 lawsuit alleged that Fr. James Jacobson sexually assaulted and impregnated two women in different Western Alaska villages, one in 1965 and the other in 1975. According to DNA testing, there is greater than a 99% chance he is the father of the two children. The lawsuit was settled in March 2007. Claim against Fr. Jacobson were also included in a 2007 settlement between the Society of Jesus (a.k.a. the Jesuits) and multiple survivors of clergy sexual abuse. Additionally, according to bankruptcy reorganization documents filed by the Diocese of Fairbanks in 2010, there have been at least two other claims of abuse implicating Fr. Jacobson.