Fr. James E. Prindeville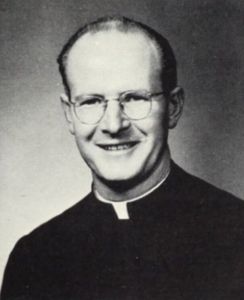 Ordination: Unknown
ASSIGNMENTS:
1949: Catholic University, Washington, D.C. (SFR)
1950-1951: St. Catherine of Sienna, Burlingame, CA (listed as James F. Prindeville in diocese pages)
1950-1951: Serra High School for Boys, San Mateo, CA (Not Indexed here, only in diocese pages)
1952-1953: St. Louis Bertrand, Oakland, CA
1952-1955: Bishop O'Dowd High School, Oakland, CA
1956-1961: Cathedral of St. Mary, San Francisco, CA; Sacred Heart School, San Francisco, CA
1958-1961: Director of Sodalities
1962-1973: St. Victor, San Jose, CA
1963-1974: Serra Club, San Jose, CA
1975-2004: Unknown
2004: Died
Fr. James Prindeville was named in a civil lawsuit in 2003, which alleged that he sexually abused a 16-year-old girl at Bishop O'Dowd High School between 1952 and 1953. Fr. Prindeville left the priesthood at some point after 1961 and married and is believed to have lived in San Jose until his death in 2004. After leaving the priesthood, he continued his association with the religious world by assisting former priests and religious with their resumes and job networking.