Fr. James E. Gotimer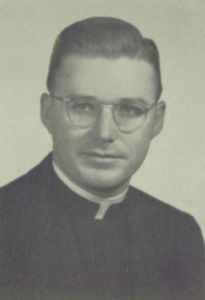 Ordained: 1953
Assignments:
1954-1963 Most Holy Trinity, Brooklyn, NY (BRK)
1964-1969 Cathedral Preparatory Seminary of the Immaculate Conception, Elmhurst, NY (BRK)
1970-1974 Bishop Reilly High School, Fresh Meadows, NY (BRK)
1975 St. Adalbert Church, Elmhurst, NY (BRK)
1975-1998 St. Bartholomew, Elmhurst, NY (BRK)
1999 Unknown
2000-2010 Retired; St. Bartholomew, Elmhurst, NY (BRK)
2011-2013 Retired, New York, NY (NY)
2013 Died
Fr. James Gotimer was ordained a priest in the Diocese of Brooklyn. Fr. Gotimer was included on the Diocese of Brooklyn's 2019 "List of Diocesan Clergy for Whom the Diocese Received Allegations of Sexual Misconduct with a Minor," in the subsection "Diocese of Brooklyn Clergy Who Were Deceased/or Resigned Prior to a Finding of Credibility." The details of the sexual abuse allegations, including when and where the abuse occurred, are unknown.