Fr. James R. Laudwein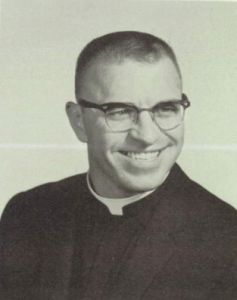 Ordained: 1962
Assignments:
1963-1964: St. Stanislaus Novitiate, Cleveland, OH
1964-1968: Loyola Hall, Fairbanks, AK
1964-1968: University of Alaska Fairbanks, Fairbanks, AK
1968-1970: Little Flower of Jesus, Hooper Bay, AK
1969-1970: Cape Romanzof, AK
1970-1981: St. Mary's Mission, St. Mary, AK
1981-1982: Jesuit Theological Union, Berkeley, CA (OAK)
1982-1995: Alaska Jesuit House, Anchorage, AK
1982-1995: University of Alaska, Anchorage, AK
1995-1997: Jesuit Provincial Office, Portland, OR
1997-2001: Colombiere Community, Portland, OR
2001-2004: Jesuit Novitiate of St. Francis Xavier, Portland, OR
2004-2012: Colombiere Community, Portland, OR
2012-2018: Unknown
Fr. Laudwein was sued in 2005 for sexually abusing a 14-year-old girl in Alaska in 1980. The abuse is alleged to have occurred inside the confessional at St. Mary's School chapel. According to the suit, Fr. Laudwein is known to have fathered at least one child in Alaska. His priestly duties were restricted following the allegation. Claims involving Fr. Laudwein were included in the 2007 settlement made by the Jesuit Order. The bankruptcy documents for the Fairbanks Diocese, released in 2010, show one pending claim involving him. Fr. Laudwein's current status as a priest, his whereabouts, and whether he has access to children are unknown.