John G. Bals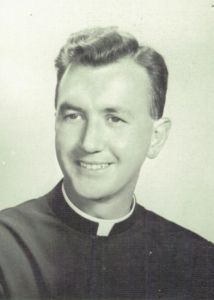 Assignments:
Unknown St. Thomas More-St. Edmund, Rockaway Breezy Point, NY (BRK)
1960-1962 Our Lady of Lourdes, Queens Village, NY (BRK)
1963 On Duty Outside the Diocese (BRK)
1963 Washington D.C. Catholic University (WDC)
1964-1965 St. Paul's, Brooklyn, NY (BRK)
1966-1971 Christ the King High School, Middle Village, NY (BRK)
1972 Our Lady of the Cenacle, Richmond Hill, NY (BRK)
1973 Absent on Leave (BRK)
1973-1995 Unknown
1995 Died
Fr. John Bals was ordained a priest for the Diocese of Brooklyn. During his assignment at Christ the King High School in Middle Village, New York, from 1966 to 1971, Fr. Bals worked as a counselor and spiritual director. On October 13, 1973, Fr. Bals was laicized. Fr. Bals was named on the Diocese of Brooklyn's 2019 "List of Diocesan Clergy for Whom the Diocese Received Allegations of Sexual Misconduct with a Minor," in the subsection "Clergy Members of the Diocese of Brooklyn With Credible Allegations: Credibility Deemed by Diocesan Review Board Determination and/or Admission on Behalf of the Cleric." Fr. Bals' whereabouts and whether he had access to children between 1973 his death in 1995 are unknown.