Fr. John Ruhl, C.M.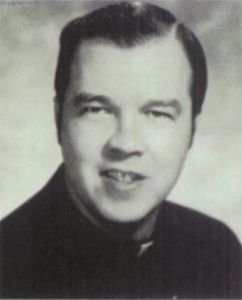 1964: Ordained
1965-1966: Unknown
1967-1971: Seminary of Our Lady Queen Of Angels, San Fernando, CA
1971: Our Lady of Perpetual Help, Newell, CA
1972-1977: St. Vincent Seminary, Montebello, CA
1978-1979: St. Vincent de Paul, Huntington Beach, CA
1980-1981: St. Anthony Claret, Anaheim, CA
1982: Unknown
1983-1987: Mission San Juan, Capistrano, CA
1988-1991: St. Joseph's, Placentia, CA
1992-2001: Inactive Leave
2002: Removed from Diocese
2003-2018: Unknown
Notes: Fr. John Ruhl was a member of the Vincentian religious order. Fr. Ruhl has been accused of child sexual abuse by at least three people. Fr. Ruhl has been named in two civil lawsuits alleging child sexual abuse; one alleged abuse from approximately 1972 to 1973, and the other alleged abuse from approximately 1981 to 1982. In 1983, Fr. Ruhl was incardinated into the Diocese of Orange. In 1992, a lawsuit was filed against Fr. Ruhl, the Diocese of Orange, bishops, and other church officials. The lawsuit asked for a temporary restraining order and alleged that Fr. Ruhl physically assaulted a kindergartener at St. Joseph Elementary School in Placentia. Shortly after this lawsuit was filed Fr. Ruhl took a leave of absence. Fr. Ruhl attended dinner every Friday night with the family of one of his victims. According to Fr. Ruhl's priest files that were released in 2013, in 1993 church officials noted that they had given Fr. Ruhl a lie detector test after a previous accusation had come to light, and said "that there was reason to suspect that there had possibly been other inappropriate behaviors." Fr. Ruhl was included in the Archdiocese of Los Angeles' list of priests accused of sexual misconduct involving minors. Fr. Ruhl was also named in the Diocese of Orange's list of clergy removed from ministry due to a credible allegation of sexual abuse. As of 2016, the Diocese of Orange listed Fr. Ruhl's status as a "Life of Prayer and Penance." At one point, it is believed Fr. Ruhl was residing in Chicago, IL. Fr. Ruhl's current whereabouts and whether he has access to children are unknown.