Fr. John J. Gallen, S.J.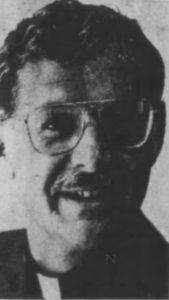 Ordained: 1963
Assignments: 
1963-1964: Woodstock College, Woodstock, MD
1965: Unknown
1966-1967: St. Mattrais Abtei, Trier, Germany
1968-1970: College of the Sacred Heart, Woodstock, MD
1971-1977: Woodstock College, New York, NY
1978-1979: Notre Dame University, Notre Dame, IN
1980: 5110 N. 32nd St., No. 403, Phoenix, AZ
1981-1987: St. Ignatius Loyola, New York, NY
1985: Franciscan Renewal Center, Scottsdale, AZ
1987-1991: Corpus Christi Center, Phoenix, AZ
1991: Bellarmine College Prep, San Jose, CA
1992: 160 E. Virginia St., Suite 290, San Jose, CA
1993: 1580 Vista Club Dr., Apt. 204, Santa Clara, CA
1994-1997: Unknown
1998-2007: Residence and publication office of the American Press, New York, NY
2008-2011: Murray-Weigel Hall, New York, NY
2011: Died
Fr. John J. Gallen was ordained a Jesuit priest. In 2004, Fr. Gallen was accused of sexually abusing a minor boy at St. Joseph in Sylvania, Ohio in approximately 1980 when Fr. Gallen was visiting the Diocese of Toledo. Fr. Gallen reportedly wrote letters of apology for his behavior in 1993 and 1994. It is believed that Fr. Gallen was not criminally prosecuted due to the statute of limitations. Fr. Gallen's status as a priest, whereabouts, and whether he had access to children from 1994 until his death are unknown.