Fr. John M. Zeder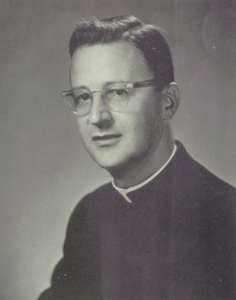 Ordained: 1954
Assignments:
1955-1959: St. Ambrose, Endicott, NY
1960-1967: Holy Rosary, Maine, NY (in residence)
1960-1967: Seton High School, Endicott, NY (Principal)
1968: Unknown
1969: On duty outside the Diocese
1970: St. Patrick, Chittenango, NY
1971-1978: On duty outside the Diocese
1979-1981: St. Mary, Cortland, NY
1982-1987: St. Malachy, Sherburne, NY
1988-1992: On duty outside the Diocese
1990-1992: Mater Dei Institute, Spokane, WA
1993-1997: St. Ann Church, Parish, NY
1998-1999: Unknown
2000: Retired
2001-2018: Unknown
In 2003, a woman filed a civil lawsuit alleging that Fr. John M. Zeder raped her between 1978 and 1981. Later in 2003, the Diocese of Syracuse stated that Fr. Zeder had been permanently removed from ministry due to a credible allegation of child sexual abuse.