Kenneth C. Hasselbach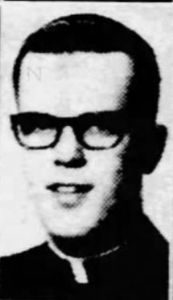 In 1994, Fr. Kenneth C. Hasselbach was removed from his position at Our Lady of Mount Carmel in Patchogue, New York, when a pornographic videotape was found in his possession. Later, Fr. Hasselbach was accused of child sexual abuse. Fr. Hasselbach allegedly sexually abused a young boy over a period of approximately five years while working at St. Raphael's in East Meadow, New York. In a 2002 interview with Newsday, Fr. Hasselbach admitted to sexually abusing the boy.
In 2009, Fr. Hasselbach was arrested and charged with possession of child pornography. He was sentenced on January 28, 2010 to two years in federal prison.
Fr. Kenneth C. Hasselbach was ordained a priest for the Diocese of Rockville Centre in 1966 and worked at the following locations:
1967-1969: St. Jude, Mastic Beach, NY
1970-1972: St. Raphael, East Meadow, NY
1973-1975: Our Lady Queen of Martyrs, Centerport, NY
1976-1979: Queen of the Most Holy Rosary, Roosevelt, NY
1980: Unknown
1981: On Duty Outside the Diocese – San Pedro Apostol, Casa Curial, El Cercado, Dominican Republic
1982-1983: Assigned to Diocesan Mission Apostolate – Casa Curial: San Pedro El Cercado, Prov. de San Juan Dominican Republic
1984: St. Francis de Sales, Patchogue, NY
1985-1991: St. Joseph's, Babylon, NY
1992-1993: Our Lady of Mt. Carmel, Patchogue, NY
1994-1996: Sick leave
Fr. Hasselbach moved to Hollywood, Florida after he was forced to retire in 1994 from the Diocese of Rockville Centre. Fr. Hasselbach died on December 7, 2014.
(Sources: The Official Catholic Directory; http://www.bishop-accountability.org; http://www.bishop-accountability.org/ny-rockvillecentre/accused_priests.htm#hasselbach ; http://www.tributes.com/obituary/show/Kenneth-C.-Hasselbach-101951264)