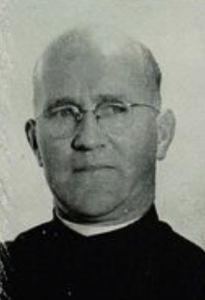 Fr. Mark A. Falvey, S.J.
Ordination: 1928
Assignments:
1929-1931: St. Clare's (outside Archdiocese)
1931-1932: Port Townsend (outside Archdiocese)
1932-1933 St. Clare's: (outside Archdiocese)
1933-1937: Gonzaga College, Shanghai
1937-1949: Catholic Mission, China
1949-1950: St. Ignatius High School
1951-1952: St. Nicholas Church, P.I
1952-1953: St. Rita's High School, Balingasag
1954-1959: Unknown
1960-1975: Blessed Sacrament Parish, Hollywood, CA
1975: Died
Fr. Mark A. Falvey, S.J. was a Jesuit priest. He spent a large part of his career at missions in China and the Philippines. In 2002 and 2003, three people came forward and accused him of sexual abuse dating back to the 1950s and 1960s. Fr. Falvey has been accused by at least 10 people of child sexual abuse between the years of 1959 and 1975 at Blessed Sacrament Catholic Church in Hollywood. Fr. Falvey was named in a lawsuit against the Jesuit religious order in 2007. Fr. Falvey was included in the Archdiocese of Los Angeles' list of priests accused of sexual misconduct involving minors.