Fr. Michael D. Buckley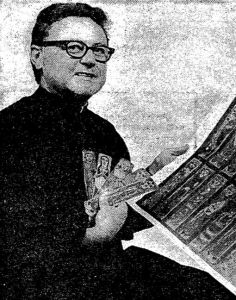 Ordained: 1947
Assignments:
1948-1955: Unknown
1956: St. Pius X Catholic Church Immaculate Heart of Mary
1957: Visitation Catholic Church, Los Angeles, CA
1958-1959: Sacred Heart, Los Angeles, CA
1960-1962: St. Charles Borromeo, North Hollywood, CA
1963-1965: Immaculate Conception, Monrovia, CA
1966: St. Philomena, Carson, CA
1967-1970: St. Francis Hospital, Lynwood, CA
1971-1975: Immaculate Heart of Mary Church, Santa Ana, CA
1976-1977: St. Margaret Mary Alacoque Catholic Church, Lomita, CA
1978: St. Augustine Catholic Church, Culver City, CA
1979-1994: Immaculate Conception Catholic Church, New Cuyama, CA
1995: Carmelite Monastery, Novitiate, San Jose, CA
1996: Hospitalized at Convalescent Facility, Long Beach, CA
1997: Retired and admitted to St. John of God Nursing Home, Los Angeles, CA
1997-2018: Unknown
Fr. Michael D. Buckley is accused of engaging in sexual misconduct with eight children between approximately 1965 and 1975. In approximately 1959, the Archdiocese received an anonymous letter requesting that Fr. Buckley be removed due to moral unfitness. In approximately 1983, the Chancellor of the Archdiocese received an anonymous phone message indicating that Fr. Buckley had engaged in inappropriate sexual conduct with children. In the early 1990s, the Archdiocese received several more allegations of child sexual abuse against Fr. Buckley. His priestly faculties were reportedly revoked in 1994. In approximately 1995, Fr. Buckley was believed to be residing in the Diocese of San Jose at a Carmelite Monastery. The Archdiocese of Los Angeles released Fr. Buckley's file in January 2013. Fr. Buckley was included in the Archdiocese of Los Angeles' list of priests accused of sexual misconduct involving minors. Fr. Buckley's whereabouts and whether he had access to children were unknown.