Fr. Michael J. Salamone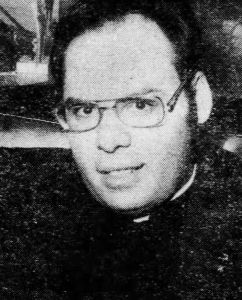 Ordained: 1975
Assignments:
1974-1975 St. Rita's, Long Island, NY (BRK)
1976-1980 St. Leo's, Corona, NY (BRK)
1981-1983 Our Lady of Mercy, Brooklyn, NY (BRK)
1984-1995 St. Pancras, Brooklyn, NY (BRK)
1992 Catholic Migration and Refugee Office, Catholic Migration Services, Inc., Brooklyn, NY (BRK)
1996-1997 Absent on Sick Leave (BRK)
1998-1999 Unknown
2000-2002 Most Precious Blood, Brooklyn, NY (BRK)
2003-2005 Retired (BRK)
2006-2007 On Leave; Unassigned; Retired (BRK)
2008-2019 Unknown
Fr. Michael Salamone was ordained a priest in the Diocese of Brooklyn. In 1994, a man alleged that he had been sexually abused when he was a minor in the early 1980s by Fr. Salamone. Fr. Salamone was purportedly permanently removed from ministry in 2002. In addition to the assignments below, Fr. Salamone also reportedly worked at Saints Joachim and Anne Nursing Home in Coney Island in the Diocese of Brooklyn. Fr. Salamone was named on the Diocese of Brooklyn's 2019 "List of Diocesan Clergy for Whom the Diocese Received Allegations of Sexual Misconduct with a Minor," in the subsection "Clergy Members of the Diocese of Brooklyn with Credible Allegations: Credibility Deemed by Diocesan Review Board Determination and/or Admission on Behalf of the Cleric." Fr. Salamone's status as a priest, whereabouts, and whether he has access to children are unknown.