Fr. Miguel Flores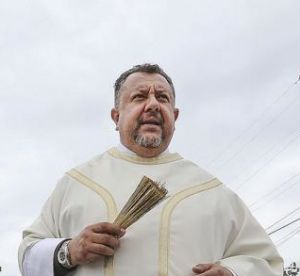 Ordained: 1994
Assignments:
1995-2000 Unknown (FRS)
2001 Sacred Heart, Fresno, CA (FRS); St. Helen, Fresno, CA (FRS)
2002 Immaculate Heart, Hanford, CA (FRS)
2003-2004 Unknown
2005-2007 St. Isidore the Farmer, Orange Cove, CA
2008-2018 St. Joseph, Bakersfield, CA (FRS)
2019 Unknown
Fr. Miguel Flores was ordained in Bolivia and worked in numerous other countries before arriving to the Diocese of Fresno in 1999. In 2002, a survivor came forward to accuse Fr. Flores of sexually abusing her when she was a minor at Immaculate Heart of Mary in Hanford, California. Fr. Miguel Flores went to trial for multiple counts relating to child sexual abuse. Fr. Flores was eventually acquitted of all charges and allowed to return to active ministry. As of 2018, Fr. Flores was still an active priest in the Diocese of Fresno. His current whereabouts, status as a priest, and whether he has access to children are unknown.