Fr. Nicolas Aguilar-Rivera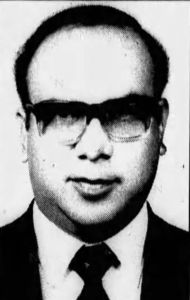 Ordained: 1970
Assignments:
1970-1987: Tehuacan, Puebla, Mexico
1976-1987: San Sebastian, Cuacnopalan, Puebla, Mexico
1987: Our Lady of Guadalupe, Los Angeles, CA
1987-1988: St. Agatha's, Los Angeles, CA
1988-1992: Mexico
1992-1993: Nuestra Senora de Perpetuo Socorro, Torre Blanca, Mexico
1994: San Antonia de Padua, Mexico
1995: San Vincente Ferrer/San Nicolas Tolentino, Tehuacan, Peubla, Mexio
1996-1998: Unknown
1999: San Miguel Arcangel, Mexico City, Mexico
2000-2008: Unknown
2009: Laicized
2010-present: Unknown
Notes: Ordained a priest of the Tehuacan diocese in Mexico in 1970, Fr. Nicolas Aguilar-Rivera was sent to the Archdiocese of Los Angeles in March 1987, after he was severely attacked at the Cuacnopalan parish where he was pastor. An investigator in the case, who also lived in the parish neighborhood, said Fr. Aguilar-Rivera often had young men and teenagers spend the night with him. The investigator suspected the priest was attacked by one or more of them. Fr. Aguilar-Rivera was assigned to an East Los Angeles parish, and was transferred from there to a South Central Los Angeles parish after just a few months. In December 1987, the young sons of two of the many Spanish-speaking families whose trust Fr. Aguilar-Rivera had gained disclosed to their parents that they had been sexually abused by Fr. Aguilar-Rivera. The boys' parents reported the abuse to the Archdiocese of Los Angeles, and Archdiocesan officials confronted Fr. Aguilar-Rivera with the allegations. The officials did not inform police, and Fr. Aguilar-Rivera fled to Mexico. California police estimated that Fr. Aguilar-Rivera sexually abused at least 26 children from both Los Angeles parishes during his nine months in the Archdiocese. He is said to have abused at least 60 Mexican children, both before and after his stay in California. Fr. Aguilar-Rivera was criminally charged with child sexual abuse in Mexico in 1997 and was convicted in 2003, but was not sentenced because the judge determined that the charges were too old. Fr. Aguilar-Rivera was allowed to remain in ministry. In July 2009, Fr. Aguilar-Rivera was laicized. As of March 2013, Fr. Aguilar-Rivera was on Mexico's federal Most Wanted list on charges of rape and indecent assault. He was also wanted in Los Angeles for charges of lewd acts on a child. Fr. Aguilar-Rivera was included in the Archdiocese of Los Angeles' list of priests accused of sexual misconduct involving minors. Fr. Aguilar-Rivera was last believed to be residing in Mexico. His current whereabouts and whether he has access to children are unknown.