Father Norman J. Rogge, s.j.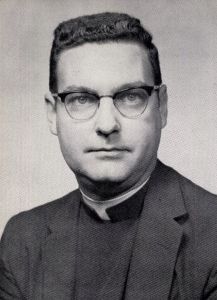 1956: Ordained
1956-1957: St. Mary's College, St. Mary's KS
1957-1958: St. Robert's Hall, Pomfret, CT
1958-1960: Jesuit High School of Dallas, Dallas, TX
1960-1979: Sacred Heart, Tampa, FL
1960-1979: Juvenile Detention Home, Tampa, FL
1979-1981: St. Ignatius, Mobile, AL
1981-1982: Jesuit Theological Union, Berkeley, CA (OAK)
1982-1985: Nativity of the Blessed Virgin Mary, Campti, LA; St. Joseph's, Trichel, LA; Our Lady of the Holy Rosary, Black Lake, LA; St. Patrick's, Montgomery, LA
1985-1988: Unknown
1988-1989: Ignatius Residence, New Orleans, LA
1989-2002: St. Charles College, Grand Coteau, LA
1998-2002: St. Charles Borromeo, Grand Coteau, LA; Christ the King, Bellevue, LA
2002-2009: Ignatius Residence, New Orleans, LA
2009: Died
Fr. Norman J. Rogge was a Jesuit priest who worked in various parishes throughout Kansas, Connecticut, Texas, Florida, Alabama, California, and Louisiana. Fr. Rogge has been convicted twice for child sexual abuse in 1967 and 1985. In 1967, Fr. Rogge pleaded guilty to charges relating to child molestation and received three years' probation and was required to under psychiatric counseling. In 1985, Fr. Rogge pleaded no contest and reportedly received probation and was required to go to a Catholic treatment facility in New Mexico. For both convictions, his criminal record was wiped clean of the child molestation charges upon completing probation and after both convictions he was allowed to continue working as a priest. Additionally, numerous survivors have come forward alleging child sexual abuse by Fr. Rogge, with the earliest allegation in 1963. In 2002, a team of journalists exposed Fr. Rogge's sexually abusive past that resulted in him being sent to a Jesuit retirement community in New Orleans.