Fr. Pearse P. Donovan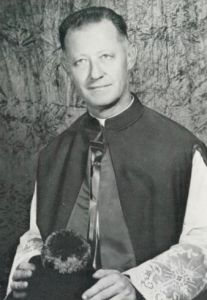 Ordination: Unknown
Assignments:
1944: St. Augustine's, Oakland, CA (SFR)
1945: St. Ambrose's, Berkeley, CA
1946: St. Gregory's, San Mateo, CA
1947-1952: Serra High School for Boys, San Mateo, CA
1953-1955: Marin Catholic High School, San Rafael, CA
1956-1964: Bishop O'Dowd High School, Oakland, CA (1962- OAK)
1963-1965: School Board; Schools, Oakland, CA
1963-1972: Catholic High Schools Federation; Catholic Parent Teacher Groups, Oakland, CA
1965-1978: Corpus Christi, Piedmont, CA
1966-1972: Building Committee; Education, Oakland, CA
1974-1976: Diocesan-Senate Consultors, Oakland, CA
1977-1978: Unknown
1979- 1980: St. Clement, Hayward, CA
1981-1982: St. Albert, Alameda, CA
1983-1985: Sick Leave
1986: Died
At least one survivor has come forward alleging child sexual abuse by Fr. Pearse P. Donovan, from approximately 1978 to 1981, while he worked at St. Clement in Hayward, California. Fr. Donovan has been named in at least one civil lawsuit where he was also accused of "passing" the boy he had been abusing at St. Clement, on to an abusive Brother at Hayward's Moreau High School. From 1963 to 1972, Fr. Donovan was the superintendent of the schools in the Diocese of Oakland. In 1978, he was sent to two different treatment centers for alcoholism. Fr. Donovan's whereabouts and whether he had access to children from 1983 until his death in 1986 are unknown.