Peter Covas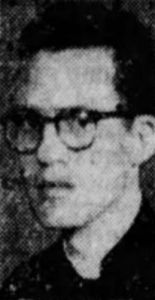 Ordination: 1957
Assignments:
1958-1959 Unknown
1960-1961 St. John the Evangelist, Tucson, AZ
1962-1970 Notre Dame High School, Riverside, CA
1971-1981 St. Catherine, Riverside, CA
1982 Unknown
1983-1986 Our Lady of Fatima, San Bernardino, CA
1987-1988 Our Lady of the Rosary Cathedral, San Bernardino, CA
1989-1990 Unknown
1991-1992 Holy Family Church, Hesperia, CA
1993-2002 St. Peter and St. Paul, Alta Loma, CA
2003-2004 Retired
2004 Died
Notes: After a voluntary review of internal files in 2002, the Diocese of San Bernardino supplied the police with a list of 20 priests who were allegedly guilty of sexual abuse. One of the names on that list was Fr. Covas. Following the report, a man stepped forward accusing Fr. Covas of sexually abusing him from the time he was 14 up until he was 25. Fr. Covas was not charged with any crimes. However, the San Bernardino Sheriff's Department did release a report which revealed that Fr. Covas had a history of sexual malfeasance: in 1987, Fr. Covas was arrested for public masturbation, and a year later, in 1988, Fr. Covas was again arrested, this time for disorderly and lewd conduct in public. According to the Diocese of San Bernardino, it had no knowledge and there was no record of Fr. Covas' arrests. The lawyer who represented Fr. Covas, Bill Lemann who had represented the diocese for years, disagreed and stated that he had told the Bishop Philip Straling, then head of the diocese, of Fr. Covas' convictions. In light of the newly released information about Fr. Covas' criminal history, he was barred from ministry. But less than a year later, in 2004, Fr. Covas was reinstated as a retired priest in good standing. Shortly thereafter, Fr. Covas died. Fr. Covas is included in the Diocese of San Diego's list of priests where the Diocese has received a credible allegation involving sexual abuse of a minor.