Fr. Philip Sunseri S.J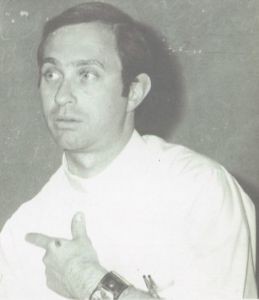 Ordained: Unknown
Assignments:
1979-1982: Brophy College Preparatory, Phoenix, AZ (PHX)
1983-1987: Jesuit Community at Fordham University, New York City, NY (NY)
1987: Holy Family, San Jose, CA (SJ)
1988-2019: Unknown
Fr. Philip Sunseri was ordained a Jesuit priest. Fr. Sunseri was included on the Diocese of San Jose's "List of Clergy with Credible Allegations of Sexual Abuse of Children." According to this list, reports were made in 1987 and 2018 alleging that Fr. Sunseri sexually abused a minor in approximately 1986 at St. Christopher in San Jose, California, and in approximately 1987 at Holy Family in San Jose, California. Fr. Sunseri was reportedly permanently banned from ministry in 1988. Fr. Sunseri is named on the Diocese of Phoenix's list of "Names of priests of religious communities who have served in the Diocese of Phoenix and have been laicized and/or removed from ministry by their communities due to sexual misconduct with a minor." Fr. Sunseri is also on the Jesuits West Province of the Society of Jesus' "List of Jesuits from Jesuits West Province with Credible Claims of Sexual Abuse of a Minor or Vulnerable Adult." in the section, "Deceased and Former California Province Jesuits with Credible Claims." Fr. Sunseri is believed to be residing in Saint Helena, California. Fr. Sunseri's status as a priest, whereabouts, and whether he has access to children are unknown.