Br. Robert Noel Brouillette, C.f.C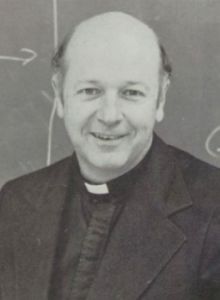 Assignments:
1960: Entered Congregation of Christian Brothers
1960-1964: Iona College, New Rochelle, NY
1961: St. Gabriel's Junior College, Lakewood, NJ
1962: Student Brother, Edmund Rice Hall, New Rochelle, NY
1964-1968: Palma High School, Salinas, CA
1965-1969: Summers at University of San Francisco, CA
1968-1970: O'Dea High School, Seattle, WA
1970-1973: Damien High School, Honolulu, HI
1973-1976: Butte Central High School, Butte, MT
1976-1984: Brother Rice High School, Birmingham/Bloomfield Hills/Detroit, MI
1984-1989: Damien High School, Honolulu, HI
1989: St. Johns Indian Mission, Laveen, AZ
1992-1997: St. Laurence High School and Community, Burbank, IL
1998-2001: Special Assignment/Other Assignment, Windsor, ON, Canada
2004: Dispensation from Christian Brothers
It is believed Br. Robert Brouillette sexually abused dozens of children nationwide, including children in New York, California, Washington, Hawaii, Montana, Michigan, and Illinois. Br. Brouillette returned to Damien in 1984 and immediately began abusing multiple children. It is believed he abused at least six Damien students between 1984 and 1988. Br. Brouillette left Damien briefly, only to return and abuse yet another student. In 1992, Br. Brouillette is accused of abusing more children on the mainland after leaving Damien, including several children at St. Laurence High School in Burbank, IL. In 1998, Br. Brouillette was arrested when he solicited an undercover law enforcement officer posing as minor. Br. Brouillette was convicted on child pornography charges and sentenced to residential treatment at St. John Vianney. Several survivors have come forward across the country and filed civil lawsuits alleging abuse by Br. Brouillette, including multiple survivors from Damien Memorial High School in Honolulu. He was known to be living in Missouri and most recently in Helena, Montana, where he is a registered sexual offender.