Fr. Roderic M. Guerrini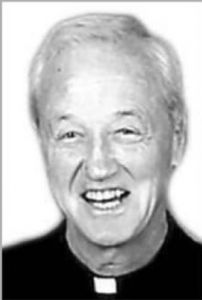 Ordained: 1963
Assignments:
1964-1975: Unknown
1976-1980: Santa Clara, Oxnard, CA
1981-1989: Our Lady of Perpetual Help, Santa Clarita, CA
1990-2002: St. Mark Catholic Church, Venice, CA
2003-2006: Retired (Nazareth House, Los Angeles, CA)
2007-2009: Unknown
2010-2017: Retired (Nazareth House, Los Angeles, CA)
Fr. Roderic Guerrini joined the Jesuit Order in 1949. He was ordained in Ireland in 1963 and granted temporary faculties in the Archdiocese of Los Angeles. Fr. Guerrini was incardinated in the Archdiocese in 1988. In 1992, a woman alleged that Fr. Guerrini had inappropriately touched and kissed her in 1977 and 1978 when she was 15 years old at Santa Clara Parish in Oxnard. The woman's two sisters made similar complaints and law enforcement investigated the allegations. Fr. Geurrini was referred to a therapist in the early 1990s but was allowed to continue as a pastor at St. Mark in Venice. He was named in a civil lawsuit in approximately 2003 and the claims were settled in 2007. Fr. Guerrini was included in the Archdiocese of Los Angeles' list of priests accused of sexual misconduct involving minors. He reportedly retired in 2002. Fr. Guerrini is believed to be residing at the Nazareth House in Los Angeles and his access to children is unknown.