Sean Leo Rooney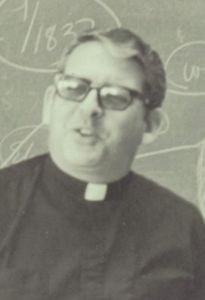 In 2013, Fr. Sean Leo Rooney was named in a lawsuit brought by a survivor of child sexual abuse. The survivor alleged that Fr. Rooney sexually abused him when he was a fourteen-year-old student at Goshen Junior Seminary in Goshen, New York, where Fr. Rooney was a teacher. The case settled in 2014.
Fr. Sean Leo Rooney was ordained in 1959 and worked at the following locations:
1959-1968: St. Dominic Savio High School, Boston, MA
1968-1971: Salesian Day High School for Boys; Salesian Resident Junior Seminary; Camp Salesian for Boys; Salesian Retreat House for Boys; Salesian Boys Club, Cedar Lake, IN
1971-1975: Don Bosco Technical High School, Paterson, NJ
1975-1979: Archbishop Shaw High School, Marrero, LA
1979-1981: Salesian Junior Seminary, Goshen, NY
1981-1983: Don Bosco High School for Boys, Ramsey, NJ
1983-2003: St. John Bosco Church, Birmingham, AL
1983-2003: Holy Rosary, Birmingham (Gate City), AL
2003-2008: Salesian Provincial House, New Rochelle, NY
Fr. Rooney was laicized in 2008.
(Source: http://www.bishop-accountability.org/assign/Rooney_Sean_sdb.htm)