Fr. Tarcisio D. Lanuevo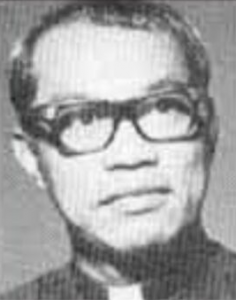 Ordained: 1956
ASSIGNMENTS:
1957-1976: Unknown
1977-1978: St. Catherine of Sienna, Martinez, CA (OAK)
1979-1980:St. John the Baptist, San Lorenzo, CA
1981: St. Paul, San Pablo, CA
1982-1984: St. Cornelius, Richmond, CA
1985-1986: Queen of All Saints, Concord, CA
1987-1989: Our Lady Queen of the World, Pittsburg, CA
1990: St. Joachim, Hayward, CA
1991: Unknown; Left the Diocese of Oakland
1992-1993: U.S. Veterans Domiciliary, White City, OR
1994-2000: Unknown
2001-2002: Retired
2003-2008: Unknown
2008-2018: Retired
Fr. Tarcisio Lanuevo was accused of sexually abusing two girls at St. John the Baptist in San Lorenzo in 1979. The two girls filed a civil lawsuit, naming Fr. Lanuevo, in 1993. The victims claimed the reason they dropped the criminal charges in 1979 was because the Diocese promised that Fr. Lanuevo would receive treatment and would never again have access to children. Fr. Lanuevo allegedly sexually abused minors at St. Joachim in Hayward. Fr. Lanuevo remained working in the Oakland diocese until 1991. In 1993, Fr. Lanuevo was working at a VA Domiciliary in Oregon the Portland diocese. Fr. Lanuevo's current whereabouts, his status as a priest, and whether he has access to children are unknown.